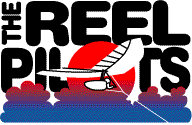 Flying Sites

The Midwest is Hang Gliding Heaven!
Static: Bong | Cullom | Manteno | Harmon
Aerotow: Enjoy Field | Whitewater WI
Ridge: | Warren Dunes | Mt Baldy | Green Point
MI Aerotow: Cloud9

Bong Recreation Area, Burlington WI
Park Office: 262/878-5600
Website

Looking west from over the center of the park. Main entry road on the right, runway on the left,
camping area just west of the runway. Photo by PeterB from 1987... not much has changed.
Bong is a 4900 acre Wisconsin State Park that features a 2.6 mile gravel runway. In the 1950's it was slated to be Bong Air Force Base and the runway was laid with many tons of crushed rock before being decommissioned. This is a multi-use park and quite a variety of activities can be going on simultaneously: model rockets and/or model airplanes of many types, dog trials, motocross on a 6 mile track, horseback riding on 12 miles of trails, swimming, boating, camping on over 200 sites, and hang glider towing.
Bong Park is the best site for pilots new to Static Towing. There are 16-18 permanent tie-downs on each end of the runway (15-31, SE-NW), flat groomed grass LZ's, and a plethora of flora and fauna that's a treat for the eyes. On a clear day, both Milwaukee (35 miles out) and downtown Chicago (75 miles away) can easily be seen. We have flown the convergence line that sets up most midsummer days, sometimes for nearly 5 hours.
The Park is located on the SW corner of Routes 75 (NS) and 142 (EW), about 10 miles north of the IL/WI border, about 22 miles west of Lake Michigan and 6 miles east of Burlington.
This is an open site, patrolled and monitored by the Park Police, so watch your speed in the park. No flying affiliation is required, but there is a cost to enter the Park and a fee for camping. If you have your own gear, you're welcome to fly except when the runway has been reserved for other activities like German Shorthair Dog Trials and hunting. If you wish to fly with the Reel Pilots, most tow car owners require USHPA membership and RHGPA membership, with appropriate waivers signed.
Site records: 1988 was an awesome year at Bong. Rich Sacher skied out at 9200'agl and Matt Thoreson made it 62 miles to Theresa WI. Unofficially, Peter Birren hit the biggest Bong thermal ever at an estimated 2500 feet per minute and went "over the falls" twice with that boomer.
Other minutia:
• Richard Ira Bong, a Wisconsin native for whom the park is named, was an ace in W.W.II. Flying a P-38, he is credited with more kills than any other pilot. He was killed in a flying accident at the very end of WW2 (Aug.6, 1945 to be exact, the day that Hiroshima was bombed) while flying a P-80, the first truly operational jet fighter in US service.
• The park is made up of 5 farms. During the 1960's it was a Special Forces training site for Viet Nam.
• LINK to "Abandoned Airfields in the USA"


PeterB taking off at Cullom on the paved EW road pix by Kris Grzyb. See photos page.
What an awesome place! Wide expanses of farmland. Few trees. Gently rolling is too generous a term for the geography... it's pretty flat. a 3-mile NS road and two 2-mile EW roads, one single paved lane. There's a third EW road that's 2.5 miles long 5 miles away.
The Reel Pilots have used this site extensively since 1996, though it was first scouted and flown in 1989.
It's not an open site but it's not invitation-only either. The whole area is privately owned so we keep it close to the vest. Call any club member to learn the details, directions and requirements.
Site records: 8500'agl (Dave Whedon); 107 miles (Kris Grzyb) and 103 miles (DaveW), both XC distances on the same day in May, 1999. June 1, 2002, John Licata and Peter Birren did the longest Region 7 Team Flight to east of Delphi IN for 95 miles.
Cullom is also an astronomy dark site, rated Bortle Green, the closest such dark area to Chicago.

Hang Glide Chicago / Enjoy Field
Features full service fun, aerotowing with modified Kolb MkIII UL's, hot shower, BBQ, 2 hangars and a 1 acre fishing pond. Contact Joe Yobbka for full info/details. Aviation website

photo by Spencer Foreman, retouching by PeterB
Site record: 125 mile triangle and 175 mile open distance (Kris Grzyb)

Whitewater is the site of the highest flight in Region 7 – 9800' agl – set by Jeff Nielsen in 1997. Located some 60 miles west of Lake Michigan, it's not as influenced by the lake winds as Bong, but when the convergence sets up, there's no telling how high you'll get or how long you'll be up. The towing club is formed up and requires annual dues plus per-flight tow fees.


John Licata under way, PeterB waiting. Nicely composed by Janet Hartowicz
This site's days are limited due to the additional housing being built nearby. The site has seen many high flights. Kris "Mr XC" Grzyb did 98 miles, Greg Fischer got a 95-miler, Dan Hartowicz flew 78 miles, Audrey Fischer did 45 that this writer remembers. Altitudes over a mile high are common.
Contact the Fischers for site requirements and limitations. There's a 1.8 mile NS road, and nearby is a 2- to 3-mile EW road, depending on wind direction. A couple more roads in the area round out Manteno to be a fine, if dusty, place to fly.

A sleepy little town SW of Dixon IL, Harmon is the boyhood home of the late, great US President Ronald Reagan. Just south of Harmon, in the miles and miles of farm country that help feed the country, are a couple of crossing 2-mile-long paved roads. In times past, it's been the site of one Regional Competition and the start of many an excellent flight. Larry Bunner set a record that stood for over 8 years as the longest flight east of the Rocky Mountains – 175 miles. He did this flight in September, 1988, and the record lasted until Pete Lehmann, from Pittsburgh PA, broke off a 183 miler that was also the first-ever crossing of the Appalatian Mountains. Larry's flight lasted more than 7 hours and he averaged over 7000 feet agl the whole time.
You'll have to call someone for directions 'cause we're not telling just anyone where it is.

May 15, 2008
Baldy is CLOSED from after the third weekend in May to the second Friday in September to all hang gliding and paragliding. This dictate comes from the new Chief Ranger.
Original listing by Gary Solomon
Steve Moyes used to build his gliders nearby and this was his testing site. It's a dune ridge about 11 miles long and good in a N wind. Best direction is 10 degrees, velocity min. 15mph. Baldy is also the main site for paraglider flying in the Greater Chicago Area. It's gently sloping main dune is great for setting up and makes launching easy. Landing can be tricky in a straight-in wind as it's tough to get a glider down. Flying to the east presents a challenge for any soaring pilot as there are gaps to cross and requires a long hike out if you don't make it. The Indiana National Lakeshore Park is a little farther east and the rangers are not very respectful of pilots who land there. The site has been flown in winds as high as 45mph, but that's advanced only, certainly not for the faint of heart.
Located just west of Michigan City IN, it is (was) an open site but does require a pilot pass for $25.00, available at a Ranger Station located 8 miles west of the park (2 miles after exit 22 on route below) and you need your USHPA card & DL. It expires on your USHPA expiration.
Site info: Indiana Dunes Nat'l Lakeshorehttp://www.nps.gov/indu/index.htm
Directions: Get to 94 East.
• From Chicago, I take 94 to the skyway (90) and then cross back to 94E
• From Wisc. 94 -294- 94 (to avoid downtown). Anyway, end up at 94E IN
• Exit 22 (mi) (Chesterton Porter) US 20 East, go about 10 miles to 520 (A little crossover road .5 mile) to US 12 East and go about 2 miles. Exit on left a side road going up a hill. Sign says Mt. Baldy.
If this is too much for a 1st visit, 94 East, exit IN 421 North, US 12 West 1 Mile (look for Mt Baldy Sign on right)
• Weather info: (Looking for N at 15+) Coast Guard Station: 219/879-8371
Nearshore Marine Forecast NWS on Lake Michigan Winthrop Harbor IL to New Buffalo MI
• weather.com local Forecast for Michigan City IN (46360)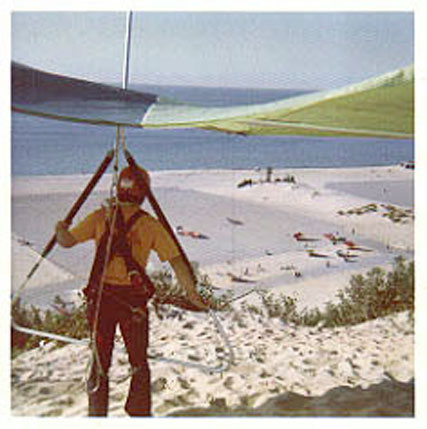 View from the top of Tower Hill in 1978. Yours truly ready to try for the beach. Instamatic photo by Kristie Birren.
Submitted by Angelo Mantas
Warren is a coastal dune site along Lake Michigan. Tower Hill, used for training almost from the start of hang gliding, is also very soarable in NW winds of 20 - 25 mph. Although Tower is back from the coast and separated from the coastal dunes by large gaps, you can jump these gaps by getting 300' or more over the top of Tower, then pulling on speed as you glide out of the park. Once you reach the coastal dunes, you have miles of ridge you can work. New Buffalo, 12 miles to the South, is a popular out and return goal on a good day. To the North, You can fly all the way to the Cook nuclear plant and beyond. Warren is primarily a ridge site, but lake thermals sometime occur, especially in the fall. The dunes probably average 80 to 100', but you can get to 400' over in ridge lift and more than a thousand over with lake thermals. To see some photos of Warren and nearby Mt. Baldy, click here Air Junkies Home (Angelo Mantas).
To fly at Warren, you must get a permit from the park. Permits are $10/day or $30/year (costs might be different), running from Jan. to Dec. You need at least a Hang I. WARNING - do not spend a lot of time hanging out at Cook if you go up that way, the personnel there get very nervous and may tell you to leave via bullhorn.
Warren is located along the Lake Michigan coast about 14 miles north of the Indiana border. Take I-94 to exit 12 (Sawyer), then take a right at the bottom of the ramp, so that you're heading west. After about a mile, this road ends at a "T" intersection. Take a right (north), go about a mile or so and the entrance to Warren Dunes State Park will be on your left. Stop at the booth, pay your entrance fee and then proceed straight down to the beach. You can get your permit at either the booth or Park Headquarters.


Ramp on right center. Parking and camping on left. Pix by PeterB from 250 over.
No website
Site of the 1978(?) National Comp, this is the best ridge site on Lake Michigan. The Green Point Flyers Association owns several prime acres south of Frankfort that includes camping (for a nominal fee to the GPFA), setup area for more gliders than you can bring, and stairs leading up to a wooden ramp that's 370 feet above the beach. The main ridge is 2 miles long and works in a generally west wind. Lake thermals are not uncommon; some have taken pilots 4000 feet over launch.
Inland about 20 miles is a little airport near Thompsonville where they hangar their trike tug for aerotowing. Static towing through a pulley on the 3500 foot grass strip has produced some good flights (one particular good one by this author).
Then there's partying with these guys (and their wives) that is world class. They know how to keep it going into the wee hours!

Tracy Tillman: 517/223-8683
Email
Website
Tracy and Lisa have built a flight park east of Detroit for aerotowing. They have a couple of Dragonfly tugs and provide almost year-round training.

Reel Pilots Home | Members | Criteria | Driver SOP | Static Line Basics | Flying Sites | Links | Airshow | Site Opening Primer | Photos | Chutes
Static Towing Parts | Hewett Bridle Basics | Lockouts | Launch Post | Payout Primer
Linknife Home
Static Line | Aerotowing | Payout/Platform
Pitch Limiter | Testimonials | Demonstration
Birren Design Company | Site Map
Subscribe to the RHGPA e-mail list
for news from the Flatlands of the Great Midwest

Subscribe to the World Towing List
All towing all the time
Site designed and produced by Peter Birren
Last update July 18, 2016