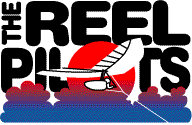 Airport Protocol
... or some things to know
before opening a new flying site


The following is an article from the ReelNews regarding opening and maintaining an airport, or farm road, as a flying site. It most likely doesn't cover absolutely every aspect of negotiations, it should get you a long way there.
How to approach and open an airport facility to hang gliding
AN AIRPORT IS A PLOT OF LAND
INTO WHICH MANY PEOPLE
HAVE POURED TONS OF TIME
AND MONEY
If you keep that phrase in mind when dealing with airport management, or rural landowners for that matter, and understand that none of that investment is yours, you will be better prepared to offer the only thing you can in return for using their land---RESPECT.
Before approaching the manager, you will of course have done your homework with the sectional, driven by to see the lay of the land, and found out the name of the main contact. You'll want to prepare a mailing, arrange a demonstration flight, and then if all goes well, you and your buddies may be permitted to fly...occasionally.
INITIAL PRESENTATION
Once you've found the prime contact, assemble a nice looking package including an introductory cover letter, the proposal, your background, insurance documentation (all pilots who will be flying are USHPA members, right?) and maybe a well-edited video. Follow up about a week later to set an appointment.
When you do meet, bring a copy of the package with you (it may have gotten misplaced in the cavernous airport office), have no more than 3 or 4 people to present, discuss and demo. Be prepared to ask and answer questions regarding safety and security. Find out what the local needs/uses are, too, from amount of air traffic to restricted airspace and landing patterns.
DEMO FLIGHT
Your preview flight should be performed by your best pilot/driver team so all goes smoothly. Spot landing performance is important as is your team's demeanor, dress and attitude. How you act can say more than what you say.
SAFETY + SECURITY = RESPECT
FOR PEOPLE & PROPERTY
The first rule at any airport is "Nobody Gets Hurt!" Following that all-important safety rule means NEVER driving across any runways, active or not, for any reason whatever. All vehicles not necessary for the towing operation should be left in the main parking lot. So transfer equipment to 1 or 2 vehicles. ALWAYS drive slowly on the edge of approved routes with your car flashers on. (Some of the Reel Pilots have roof lights now.) Flight operations of hang gliders take a back seat to any powered traffic. Even if they know you're there, they may be absorbed in instruments, flight patterns, other traffic, maps, etc. (It's quite disconcerting to be on the runway ready to launch and have a Gulfstream jet come in low--unannounced--for a landing.)
SAFETY DIRECTOR
A safety director should be appointed to control the entire operation. S/he should be highly visible, have complete control over radio communications (an aircraft transceiver is real handy) and have the authority to suspend all HG activity at a moment's notice. Identify your flight path for sled runs and XC flights with the manager prior to each day's flying--and hold to it. Landing approaches should never cross any part of a runway. Landings should also be on the upwind side of the runway to prevent wingtip vortices from crashing a glider (go ahead, ask how it is we know). Spectators must be kept under control and restricted to very well-defined areas. And glider setup must be kept well away from active areas.

$ $ $ $ $ $ $ $ $ $ $ $
Respect the airport property as if it were the pilot's home. Understanding some costs involved may help:
-- Some non-hub airports can have capitol investment of up to $10,000 per square foot for runways, utilities, hangars, drainage, etc.
-- Runway lights go for about $150.00 each, though many are the breakaway style, and parts of those can cost about $75.00.
-- "Real Airplanes" are very expensive, as if you didn't already know.
-- You're not adding to their coffers...you don't have a tie-down or even buy fuel.
-- Damage to the grass next to the runway can be costly if your car/truck tires interrupt the drainage--it may not even show for a year. Driving a tow on the pavement is cleaner, easier on the cars, and doesn't damage the grass, so this should be an important inclusion into your proposal.
AND MORE SECURITY
Coming soon to an airport near you may be Proposed Federal Regulation 195 which will require positive identification of ALL personnel on even non-hub airport grounds. You may eventually be required to carry a photo ID. And to secure your future flying at the site, consider who should be permitted to fly with you. Your pilots' landing skills should be topnotch and their personalities should be fully teamwork-oriented. A "loose cannon" could easily cost you the site through behavior alone (Gee, how do I know about that?). The number of pilots as well should be limited to about 5-7 at any one time, unless you get clear permission for a larger meet or fly-in (fly-out?). Too many pilots appear as intimidating and imposing on THEIR property, especially if it's a small field.

RESPECT
Respect is only EARNED though delivered promises, cooperative behavior, professionalism and a showing of respect. Treat the people and property as if you were visiting their home. Ask permission to use the runway at least the day before you plan to fly (call for reservations). Keep your feet off the furniture and pick up the garbage.
LIABILITY
This writer is not a lawyer, nor do I play (oh, never mind), but the consensus of lawyers with whom I have spoken is that no one is immune from any liability on anything. A landowner could get hauled to court if you hurt yourself on his property. But, generally speaking, unless there was a hidden obstacle, like a well that wasn't capped or barbed wire on the ground through his corn field (meant for personal harm), he had *no control* over your operation.
A waiver, signed by each pilot at the site and held by the landowner, could help. So could Christmas cards, saying "Hello" every day you're there, presenting a farmer with a framed photo of his land (John Heiney helped us out once with this, thanks.) and maybe a tandem flight, too. (We've had one farmer clear an LZ and remove a tree for us. "Ya'll wanna camp in a nice little spot down by the crick?" Swell guy.)
Hanging around an airport is great fun, as is swapping lies with other types of pilots. Many powered pilots have never seen our sport. But politics (protocols) are always involved--if you want to fly to the tune, you've got to pay the Piper.
Thanks to Dennis Courtney for much of the information in this article. Dennis has been involved with General Aviation for over 30 years, is a private pilot and air show organizer for over 20 years. The efforts of Larry Bunner, Dave Whedon and this writer have opened 3 airports in northern Illinois for HG use. And thanks to all the Reel HG Pilots who understand teamwork, these protocols, and generally make flying a lot of fun. Peter Birren... Flying for the shear pleasure of flight

This comes via Mike Sylvia in Rhode Island:
Procedures for Hang Glider Towing at Newport Airport
Introduction
As guests of the Newport Airport,t all hang glider pilots understand that our use of the facility is secondary to all general aviation activities. We must be certain not to interrupt the normal flow of traffic at the airport. The following procedures are to be fully understood by all participants.
With attention to details and safety as the top priority, hang gliding at Newport Airport will be beneficial to all. General Hang gliding at the airport is a secondary use of the facility. No flights will occur with traffic in the pattern or within 5 miles of the airport. The management of the airport will retain the right to end any hang gliding at the facility at any time they may choose.
Setup
Prior to placing the winch and hang gliders in their setup areas, a visual and radio check will be made to assure no traffic is in the area. When clear, a call on the Newport traffic frequency (122.800) will be made to advise traffic of vehicle movement to the setup area. Move directly into position to clear runways and taxi ways as quickly as possible. Advise traffic by radio when runways are clear. Stay well clear of runways while performing setup.
Flight Director
A flight director will be assigned to oversee towing operation. He or she will be the point of contact for airport management. The flight director will also be in charge radio communications to announce movement on the airport and to monitor for air traffic approaching the area. The responsibilities of the flight director make this a critical position. The person acting as flight director will be either a private pilot or a person very familiar with GA. If airport management is not satisfied with the qualifications of the person selected as flight director, a suitable replacement will be appointed.
Towing
We must keep our time on the runway short. The tow line will be kept off the runway and held short of any crossing taxi way or runway until the next pilot is fully prepare to tie in and launch. While we need to be aware of moving quickly, do not compromise safety (don't rush to launch in a crossing gust). When the flight director determines that a pilot is ready and there is no traffic in the area he will announce on the radio that towing is in progress. If traffic approaches while a pilot is ready to launch, the flight director will determine whether to launch or clear the runway. In the event of a weak link break on tow clear the runway as quickly as possible. The winch operator will determine the safest method of clearing the runway of the tow line and recovery chute. When the runway is clear the flight director will announce this information on the Newport traffic frequency.
Flight Patterns
The standard left traffic pattern is used at Newport with pattern altitude of 1200' MSL. The airspeeds of our hang gliders is much slower than those of GA. To avoid conflicts once off tow, hang gliders will use a right traffic pattern. Hang gliders will land off and to the right of the active runway. At no time below 1700' MSL will a hang glider be to the left of the active runway. Any pilot in violation will be excluded from any future towing. _____________________________________________________
MIKE SYLVIA N1TBV
NORTHKINGSTOWN, RI

Reel Pilots Home | Members | Criteria | Driver SOP | Static Line Basics | Flying Sites | Links | Airshow | Site Opening Primer | Photos | Chutes
Static Towing Parts | Hewett Bridle Basics | Lockouts | Launch Post | Payout Primer
Linknife Home
Static Line | Aerotowing | Payout/Platform
Pitch Limiter | Testimonials | Demonstration
Birren Design Company | Site Map
Subscribe to the RHGPA e-mail list
for news from the Flatlands of the Great Midwest

Subscribe to the World Towing List
All towing all the time
Site designed and produced by Peter Birren
Last update April 27, 2013