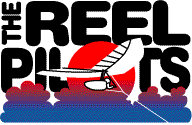 Old saying:
You don't need a parachute to skydive.
You need a parachute to skydive TWICE.
Every year since 1986, the Reel Pilots have done both a parachute clinic and repack session and a glider maintenance meet. Both safety sessions have turned up problems that may not have otherwise been seen. It's great to have many eyes looking over your equipment and come up with ways to fix the problems which are found.
We've held the chute clinics at military parachute lofts, in an aircraft hangar and, for the past 13 years (2012), in a conference room at a local library. The maintance meets were in the military hangars (NAS Glenview and O'Hare National Guard... both now gone) and for several years at a high school (prohibited now due to insurance costs). Finding a good site is critical.
Parachute Reference
The following PDF files will help you and your club members learn to understand the need and caring for your emergency chute. In a critical situation, it's your absolute last chance for survival.
Repacking your own chute is not difficult but must be with both care and knowedgeable training. Mistakes can be made that will prevent a chute from opening. Good to have experience eyes watching.
1. Basics by Betty Pfeiffer (2 pages) – PDF
2. Rigger's inspection details (1 page) – PDF
3. Parachute quiz (4 pages) – PDF
4. Equipment care by Rob Kells and Steve Parsons (4 pages) – PDF
5. Misconceptions by BettyP and Bill Gargano (4 pages) – PDF
Videos:
Betty Pfeiffer Clinic - 1.5 hours on youtube
Betty, part 1 by Joe Schmucker
Betty, part 2 by Joe Schmucker

Glider Inspection Checklist
This is a 2-page form I developed that was printed in HG magazine some years ago. It was updated and reformatted in 2006 – PDF

Reel Pilots Home | Members | Criteria | Driver SOP | Static Line Basics | Flying Sites | Links | Airshow | Site Opening Primer | Photos | Chutes
Static Towing Parts | Hewett Bridle Basics | Lockouts | Launch Post | Payout Primer
Linknife Home
Static Line | Aerotowing | Payout/Platform
Pitch Limiter | Testimonials | Demonstration
Birren Design Company | Site Map
Subscribe to the RHGPA e-mail list
for news from the Flatlands of the Great Midwest

Subscribe to the World Towing List
All towing all the time
Site designed and produced by Peter Birren
Last update August 22, 2014