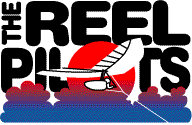 Towing Equipment Photos
- Chris deLannoy -

Chris parked long enough to get these shots of his towing rig. Hope they help if you're building your own reel. Click on a photo for an enlargement.

Chris' static towline hookup uses a full-opening Wichard shackle, same as used on many keel-mounted aerotow releases. The towline can be released by the driver from his seat in case of a unique emergency.

His fingers are pushing against an extension lever to allow the pin to lock.

Set up and ready to tow. On 12-7-03 we tested the pull to about 250 pounds and found the bottom half of the shackle had elongated a tiny bit but released with a pull of 24 pounds on the driver's purple line. The deforming was just enough to require the application of tool #1 (a good hammer). A larger shackle is available somewhere (maybe West Marine?).

On the left is the tension gauge with some hand tension applied. Easily seen by the driver, it's magnet mounted on the hood so peripheral seeing takes in the road and surrounding area. On the right, the hydraulic cylinder is highlighted. Note the hose wrapped around the rack to prevent snagging, and the emergency line is routed through hook eyes. The entire cylinder/hose/gauge fits in his tool box and has worked flawlessly since 1997.

Chris' reel and mounting details. Reel design by Rich Sacher.
Photos and retouching by Peter Birren

Reel Pilots Home | Members | Criteria | Driver SOP
Static Line Basics | Flying Sites | Links | Airshow
Linknife : Static Line | Aerotowing | Payout/Platform
Pitch Limiter | Testimonials | Demonstration
Birren Design Company | Site Map

Site designed and produced by Peter Birren
Last update April 14, 2006