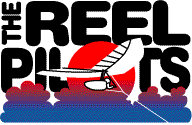 Towing Equipment Photos
- Peter Birren -

Thanks to Bill Cummings and David Cameron for urging me to get these pages set up. Click on a photo for the larger version.

Cut 24" of 3mm perlon, place the Linknife on the line and tie a loop on each end of the line. Place one loop on the cylinder then thread the other loop through the towline and on the cylinder. Run a line so the driver can easily reach it. The towline can then be released by the driver from his seat in case of a unique emergency such as if the pilot cannot release. However, if the pilot has a major release problem and is dragging the towline, other problems like snagging the line on some ground obstruction can occur.

Reel design by Rich Sacher. Photo on left shows belt tension arm which is lowered to take tension off the belt for payout and raised for rewinding. On right, the cylinder with emergency release and cylinder support are shown.

Guage shows color areas for ease of use by the driver. See here for longer page on details of this system.

Reel Pilots Home | Members | Criteria | Driver SOP
Static Line Basics | Flying Sites | Links | Airshow
Linknife : Static Line | Aerotowing | Payout/Platform
Pitch Limiter | Testimonials | Demonstration
Birren Design Company | Site Map

Site designed and produced by Peter Birren
Last update January 15, 2013