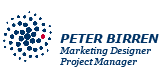 home

case studies
client list by industry
brief résumé
site map
Samples:
latest projects
advertising
brochures - print
displays - corrugated
displays - permanent
displays - trade shows
business illustrations 1
business illustrations 2
logos - alphabetic
logos - symbolic
retouching
web samples

Trade Show Displays
So many ways of wooing the buyer.
So many ways of testing new ideas.
So many ways of keeping your sales force excited.
So many ways of making your product look great.

Call or write to discuss your particular needs. Be it a rental booth or totally custom, we look forward to helping achieve your goals in a reasonable time frame (or sooner) at a reasonable price.
YG1usa
Rendering of 30' x 40' booth, showing off YG's line of drills.
Tile Care Inc.
Three 8-foot banners were created from a single image for a cost-effective way of displaying at local home shows.

CEC Industries
20-foot booth coincides with their capabilities brochure.
Value Certified Equipment
2-panel tabletop. To meet deadlines for this new company, the logo, booth, photo retouchings and 6-page brochure were all produced inside of 48 hours, with mere minutes to spare.
Symbicort Dance Floor
Portable dance floor with projector and screen to educate a younger demographic on their asthma drug.
IT Stability Group
Custom backlit header, header supports, and bracing for 2 LCD monitors were designed and fabricated to expand the impact of an 8-foot Abex tabletop.
---
Similar needs but with different approaches:
Lansa Inc.
20 foot in-aisle booth.

INTO 2000
20-foot island. 10-foot backwalls provided each of 3 service providers their own area. Center space for scheduled demonstrations to 10 people.

---

Birren Design Company
Different needs and budgets drive different solutions. Can I help you?

NEXT: to Business Illustrations 1
BACK: to Displays, Permanent

Case Studies | Clients | Résumé | Contact

Home | Advertising | Brochures & Collateral | Retouching | Web Design
Displays: Corrugated | Permanent | Trade Shows
Illustrations: 1 | 2
Logos: Alphabetic | Symbolic
Newest Samples





This page last modified on April 2, 2010